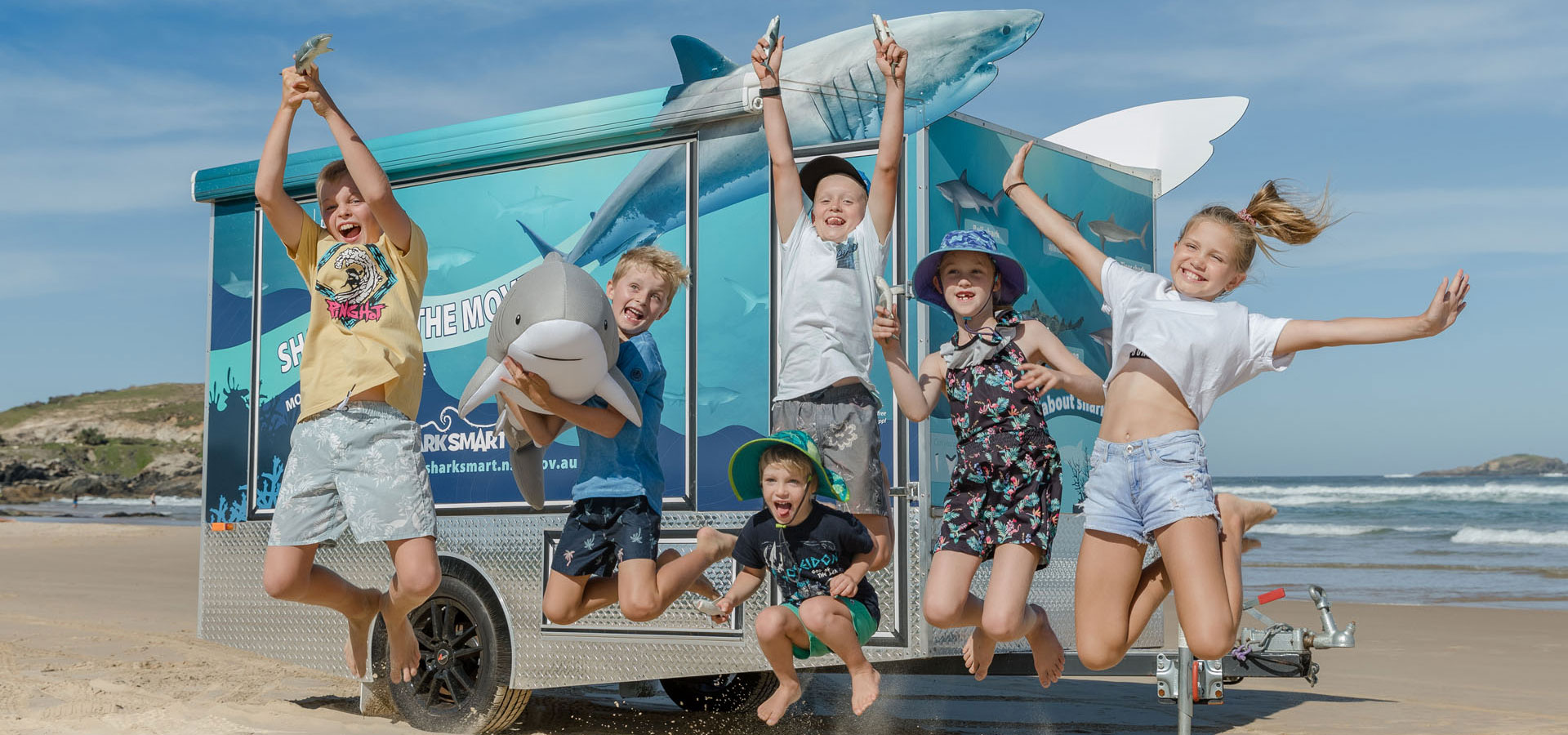 National Science Week 2020
Dive into the Deep Blue with the SharkSmart team!
The five year NSW Shark Management Strategy was led by a team of world-leading DPI scientists. To celebrate the amazing work, we are offering three lucky schools the chance to chat with our scientists in (virtual) person. Visit our National Science Week 2020 page for all the details.
SharkSmart school workbooks
The NSW Shark Management Strategy (SMS) is a great real-world example of working scientifically to design and produce solutions to a problem.
In 2015, the NSW Government recognised a need to address the increase in human-shark interactions along our coast. Over the next five years, a suite of shark mitigation technologies were trialled such as drones, SMART drumlines and shark listening stations. Scientists also tagged over 500 sharks to learn more about their movements to inform future shark safety measures. The knowledge gained from this research and the trials helps governments make decisions about beach safety and also helps people make smarter decisions about how they use the ocean. In short to help people be SharkSmart.
We have developed a set of workbooks to help teachers use the work of the SMS as an example of authentic science and technology learning. The content of this website, the videos on this page and throughout the website will help students complete the workbooks.
The workbooks are designed to support students in working towards NSW syllabus outcomes. We encourage teachers to use their professional judgement about whether the specified workbook is appropriate for their students and to use one of the other versions if they are better suited to the cohort they are working with.
Science and technology
ST1-4LW-S describes observable features of living things and their environments
PDHPE
PD1-7 explores actions that help make home and school healthy, safe and physically active spaces
PD1-6 understands contextual factors that influence themselves and others' health, safety, wellbeing and participation in physical activity
Science and technology
ST2-4LW-S compares features and characteristics of living and non-living things
ST3-4LW-S examines how the environment affects the growth, survival and adaptation of living things
Geography
GE2-1 examines features and characteristics of places and environments
GE2-2 describes the ways people, places and environments interact
GE2-3 examines differing perceptions about the management of places and environments
GE2-4 acquires and communicates geographical information using geographical tools for inquiry
PDHPE
PD2-7 describes strategies to make home and school healthy, safe and physically active spaces
PD3-6 distinguishes contextual factors that influence health, safety, wellbeing and participation in physical activity which are controllable and uncontrollable
Secondary
The two secondary workbooks are designed to be used independently of each other. If you choose to use both, remove the duplicated sections from one of the books ie. the scientist profiles, the pages on how the findings of the SMS inform the recommendations and the social media pages.
Science
SC4-1VA, SC5-1VA appreciates the importance of science in their lives and the role of scientific inquiry in increasing understanding of the world around them
SC4-14LW relates the structure and function of living things to their classification, survival and reproduction
SC4-15LW explains how new biological evidence changes people's understanding of the world
SC5-15LW explains how biological understanding has advanced through scientific discoveries, technological developments and the needs of society
Geography
GE4-4 examines perspectives of people and organisations on a range of geographical issues
GE4-5 discusses management of places and environments for their sustainability
GE5-3 analyses the effect of interactions and connections between people, places and environments
Marine and Aquaculture Technology
MAR4-1 identifies the nature and scope of the marine and aquatic environment
MAR4-2 identifies and describes the components of some marine ecosystems
MAR4-7 identifies the need to care for and protect the marine environment
MAR5-1 identifies and describes a range of marine and aquatic ecosystems and investigates their complex interrelationships
MAR5-7 identifies, describes and evaluates the ethical, social and sustainability issues related to the marine environment
Technology Mandatory
TE4-1DP designs, communicates and evaluates innovative ideas and creative solutions to authentic problems or opportunities
TE4-10TS explains how people in technology related professions contribute to society now and into the future
Marine and Aquaculture Technology
MAR5-3 identifies, describes and evaluates the effects humans have had on the marine environment
MAR4-11 identifies employment opportunities in aquaculture, marine and maritime industries
MAR4-13 selects and presents the results of appropriate research from a variety of sources
MAR5-11 identifies and describes a range of aquaculture, marine and maritime vocations and leisure pursuits
PDHPE
PD4-7 investigates health practices, behaviours and resources to promote health, safety, wellbeing and physically active communities
PD5-7 plans, implements and critiques strategies to promote health, safety, wellbeing and participation in physical activity in their communities
Shark week for schools virtual excursion
A virtual excursion like no other, NSW students were transported live from their classrooms to North Coast Beaches to learn more about the latest DPI research on sharks.

Shark Harbour
Shark Harbour is a one hour documentary that follows Australia's leading shark scientists investigate a spate of shark bites in the waters of Australia's biggest city - Sydney. Targeting Great White Sharks, Tiger Sharks and Bull Shark's, they want to know if - in a city of four and half million people, surrounded by much loved waterways and beaches can sharks and humans safely co-exist.
Access the Shark Harbour documentary.
* Please note the documentary starts at 1min 30sec
YouTube videos
Check out our YouTube playlist which has lots of shark tracking videos and myth busters
Watch on YouTube